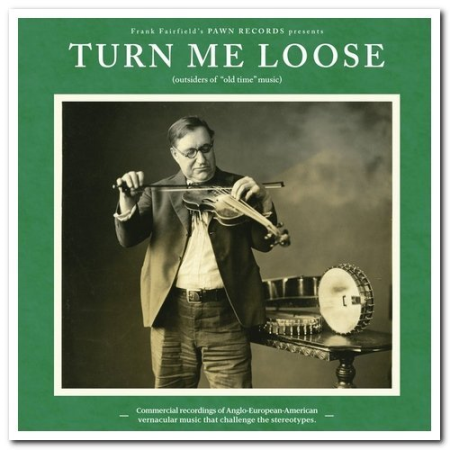 FLAC (tracks) - 41 min | Genre: Folk, Country, Blues | 256 MB
Frank Fairfield curates another reissue of 78 rpm records - this with the help of a few of his collector friends. The collection focuses on some of the most seldom acknowledged varieties of Anglo-American vernacular music. You'll hear unusual performers, uncommon instrumentation and great fiddlers from California to Ohio, New Mexico to West Viia. Forget "Americana", this collection shows Anglo-American down-home music as it actually was and in many cases (although largely unrecognized) still is. With painstaking audio restoration by the great Michael Kieffer (Origin Jazz Library).
'Turn Me Loose' is Frank's second compilation of 78s. 'Unheard Ofs & Forgotten Abouts', released on Pawn/Tompkins Square in 2010, provides a broad view of the "Gramophone era", specifically concerning the recording of vernacular music from around the world: from Atlanta, Georgia to Kisumu, Kenya; from the the 10's to the 60's. Frank Fairfield has also released two studio albums on Tompkins Square.
:: TRACKLIST ::
1. Bob Skiles Four Old rs - Wagoner
2. Willard Hodgin - Don't Get One Woman On Your Mind
3. Blind Joe Mangrum & Fred Shriver - Bacon And Cabbage
4. Mustard And Gravy - The Whale Did, I Know He Did
5. Tweedy Brothers - Chicken Reel
6. The Happy Hayseeds - Ladies' Quadrille
7. Lemuel Turner - Way Down Yonder Blues
8. John Batzell - Money Musk Medley
9. Homer Davenport - Down In Tennessee Blues
10. Lewis Brothers - Caliope
11. Ernest Rogers - Mythological Blues
12. McLaughlin's Old Melody Makers - Dill Pickles Rag
13. Alphus McFayden - Arkansas Traveler / Turkey In The Straw
14. South Georgia Highballers - Mister Johnson Turn Me Aloose
Commercial recordings of Anglo-European-American vernacular music that challenge the stereotypes.
DOWNLOAD
(Buy premium account for maximum speed and resuming ability)
Code:

https://rapidgator.net/file/ef28368c8838de8806c9a9b4c9d90609/i5687.VA..Turn.Me.Loose.Outsiders.of.OldTime.Music.2013.rar